Our 14% Annuity Rate Plan
At Income For Life, we offer a new pension-style retirement income plan that is available to anyone over the age of 50. We know it can be tricky picking investments such as annuities, but this plan guarantees a 14% annual roll-up rate to your income account for every year you let the plan accumulate. 
If you'd like to learn more about this annual interest rate plan or other retirement income planning strategies, contact our financial planners today.
What is an annuity?
An annuity is a contract you purchase from an insurance company that can provide you with a guaranteed, monthly income after you retire.
What makes this 14% Annuity Rate different?
This 14% Annuity Rate guarantees a 14% annual roll-up rate for your income account for every year you let your plan accumulate. Liquidity and medical waiver benefits are built into this plan automatically at no extra cost to you.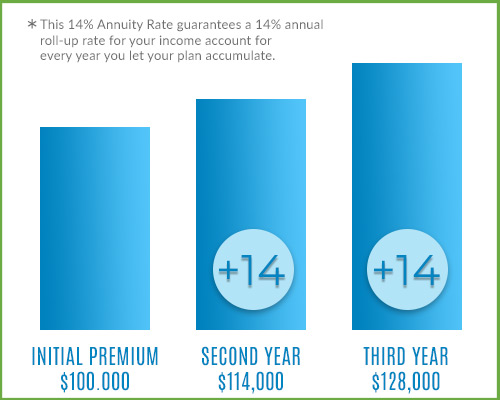 This plan also protects you from any possible market losses, and it is guaranteed to last you the rest of your life. After you pass, your beneficiaries will be transferred any remaining contract value.
The Specifics
This plan offers you an annual simple interest roll-up of 14% to your initial base income or premium. What that means is 14% of your initial premium amount will be added to your base income over 10 years.
For example, if your initial premium amount was $100,000, you'd have $114,000 the second year of your contract, $128,000 the third year of your contract, and so on. If you don't take any guaranteed income withdrawals throughout the 10 years of this plan's contract, you'll have the option to restart any roll-up rates for another decade at a declared rate of at least 3%.
Your annual benefit amount is dependant on a variety of factors, including the following:
Your initial premium amount
Your age at contract issue
Your age at first withdrawal
Whether you're receiving a single or spousal benefit
Contact Our Financial Planners At Income For Life
For more information about our 14% Annuity Rate plan, call us at (833) 450-3062 or fill out our online form. You have no obligation to commit to this customized plan, and it's free to request additional information from our retirement planners about it.
Call us today to also get company details, fees and limitations.